PMD Solutions, an industry-leading medical technology company based in Cork Ireland, today announced its successful enrolment in the NHS Innovation Accelerator (NIA) Programme as part of the NIA's official kick-off launch event which took place in London this week.
Now entering its third year, the NIA is an NHS England initiative delivered in partnership with England's 15 Academic Health Science Networks (AHSNs) and focused exclusively on identifying and partnering with only the top leading healthcare pioneers in the market. Since its launch in July 2015, the NIA has supported the uptake and spread of 25 high-impact, evidence-based innovations across 799 NHS organisations. This recruitment process follows an international call and robust selection process, including review by a collegiate of over 100 assessors and the National Institute for Health and Care Excellence (NICE).
"We are delighted to announce our participation in the NIA Programme as this alliance represents the culmination of a lot of hard work and dedication in developing our core product RespiraSense™, the world's only continuous, motion-tolerant, respiratory rate [RR] monitor," said Myles Murray, PMD Solutions CEO. "A key focus for PMD in 2017 has been on developing our partnership channels within the NHS and building thorough educational awareness around the importance of continuous RR monitoring. Respiratory rate is the earliest indicator of patient deterioration, yet it is the most poorly measured. RespiraSense™ has demonstrated that it can detect deterioration up to 12 hours earlier than the standard of care so we now look forward with great anticipation to delivering the very best in RR innovation across the 799 NHS organisations in the UK."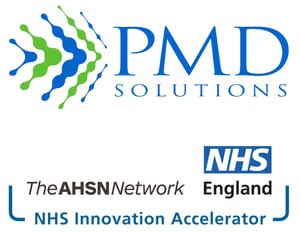 Since 2016, PMD Solutions has been working with a network of thought leaders in the fields of early warning scoring, vital signs, and improvement in hospital systems. In 2017 PMD announced research partnerships with European Centres of Excellence in Denmark and Wales and together they continue to demonstrate the value of respiratory rate and the clinical and economic impact it has on patient care. Simon Stevens, NHS England Chief Executive said: "Modern medicine is on the cusp of a huge shift in how care is delivered, and practical innovations like these show how NHS patients will now directly benefit. More tests and patient monitoring will be done at home or on the move, without the need to pitch up to a doctor's appointment or hospital outpatients."
"Since it started the NHS Innovation Accelerator has continued to deliver for patients and the taxpayer," said Ian Dodge, National Director for Strategy and Innovation at NHS England. "It's just one of the ways that the NHS is getting its act together to provide practical help for innovators with the best ideas. From a small investment, we are already seeing very big benefits – safer care for patients, better value for taxpayers, new jobs created and export wins."
"As a national NHS AHSN Network we remain committed to supporting the NIA to ensure that as many residents, patients and staff as possible can access these innovations, which support primary care and urgent and emergency care needs," said Mike Hannay, Chair of the NHS AHSN Network. "We look forward to working with the new Fellows over the coming months to deliver these innovations at scale across the country."
About NHS Innovation Accelerator
The NHS Innovation Accelerator (NIA) is an NHS England initiative delivered in partnership with England's 15 Academic Health Science Networks (AHSNs), hosted by UCLPartners. We support delivery of the Five Year Forward View by accelerating uptake of evidence-based innovations for patient, population and NHS staff benefit, and providing real-time practical insights on spread to inform national strategy.